Psalm 2:7-12 I will declare the Lord's decree: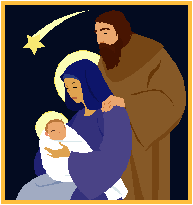 He said to Me, "You are My Son;
today I have become Your Father.
Ask of Me,
and I will make the nations Your inheritance
and the ends of the earth Your possession.
You will break them with a rod of iron;
You will shatter them like pottery."
So now, kings, be wise;**
receive instruction, you judges of the earth.
Serve the Lord with reverential awe
and rejoice with trembling.
Pay homage to the Son or He will be angry
and you will perish in your rebellion,
for His anger may ignite at any moment.
All those who take refuge in Him are happy.
Perhaps ten months before Simeon held Jesus (or about two pages back in the Gospel of Luke), Mary was told about Jesus' identity by an angel. The one born to her would be called the Son of God.
That was not the first time that the Messiah was identified as God's son. It was implied at the beginning of time, for instance. In Genesis, God told Eve that her seed would reverse the curse. By intentionally leaving Adam out of the equation, God implied that some unusual method would create this child of Eve, thus of all women—eventually leading to Mary.
In Proverbs, too, it raises the question, what is the name of God's son? Proverbs 30:4 Who has gone up to heaven and come down? Who has gathered the wind in His hands? Who has bound up the waters in a cloak? Who has established all the ends of the earth? What is His name, and what is the name of His Son— if you know?
The angel answered that question when he spoke to Mary. God's son would be named Jesus, or Yeshua in the Hebrew, meaning God saves.
Back to this Psalm. Here it announces three events: the son's birth or incarnation, his coronation, and his judgment. Time is compressed within these twelve verses. The only hint we get of the crucifixion comes in verse 6, just at the end of yesterday's passage. The son was consecrated on God's holy mountain.
From the arrival of the Son of God into human history, we get fast-forwarded to the end of time.
Here, as Simeon said, all hearts will be revealed. Those who rebel will perish. But those who take refuge in Jesus, those who accept the Son of God as God's provision for sin and pay homage to him out of gratitude—they will be happy for all time.
Rejoice! For unto us a child is born. Unto us a Son is given!
**Kings, be wise. Any chance that God knew we would call the Magi as kings and wise men? Just an extra thought for today.